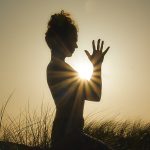 Sterre offers Mindfulness workshops and programs for groups as well as for individuals. For instance the classical eight-week trainings Mindfulness Based Stress Reduction (MBSR) and Mindfulness Based Cognitive Therapy (MBCT) as developed by Jon Kabat Zinn. And workshops like Introduction to Mindfulness, Mindfulness and sports-performance or Reducing work-stress with Mindfulness.
Over the last twenty years Mindfulness based programs gained increasingly more ground in the field of Western psychology, some are now evidence based as there is a growing body of scientific research that proves the effects on cognitive- and neurological functioning as well as overall wellbeing.
When Sterre first learned about Mindfulness she saw the potential right away. Since she had years of experience as a yogini, techniques like focussing on the breath, moving with awareness, meditation and the Eastern view on life, were  familiar to her. From her own experience and that of her yoga students she knew the powerful healing effects of meditation, bodily awareness and the practice of kindness on overall (mental) health and balance in life.
In 2013 Sterre completed the training for trainers program with Hende Bauer at Centrum Mindfulness Den Haag and she works with Mindfulness since. In her self-practice as well as in individual counseling programs with clients and in group settings. Sterre has deepened and broadened her meditation practice over the years with various retreats amongst which S. N. Goenkas 10-day silence Vipassana retreat and several courses with the Tibettan Buddhists in the foothills of the Himalayas in Northern India.
The eight-weeks training she offers include a silent day and study materials like a syllabus, a beautiful book, audio meditations for home-practice and the use of a yogamat and a meditation cushion. At the moment there are no trainings lined up yet due to a sabbatical leave in Asia.
However, please get in touch for any questions and requests.